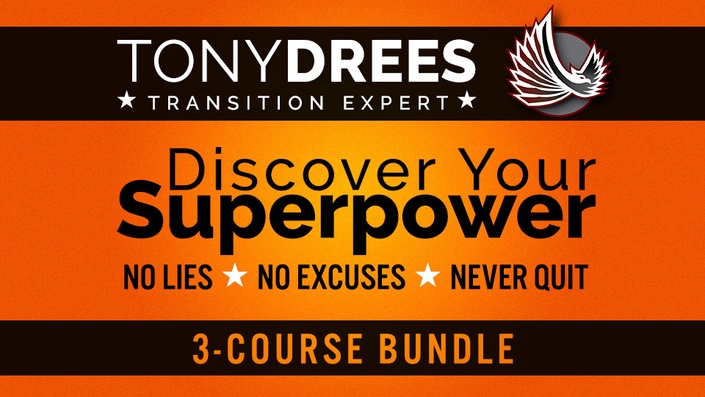 Discover Your Superpower Bundle
Find Peace, Passion, and Purpose.
Feel invincible in life or business just weeks from now, with Tony Drees.
The Tony Drees Discover Your Superpower 3-course bundle offers a powerful system using common language to help virtually everyone elevate their survival potential and make lasting positive change in their lives with just three simple rules:

NO LIES, NO EXCUSES, and NEVER QUIT.
In three ground-breaking, free personal transformation courses, Drees will help you make time for what's important, get everything you want from life, and believe in yourself again. Your personal transformation from this 3-course bundle is closer than you think.
Within four weeks from the time you begin Rule No. 1: NO LIES, Tony will help you discover your superpower, understand your superpower, and learn to focus your superpower where you need it most in life.

Tony Drees survived the deadliest Scud missile attack of the Iraqi war in 1991, while 28 other people did not.
Ultimately, after more than 70 surgeries and 27 years post-war, this Desert Storm survivor decided to have his war-torn right leg amputated at the hip in 2018 to prevent shrapnel-induced cancer from spreading.
Indeed, to get this far, Tony has championed over childhood abuse, PTSD and combat trauma, chronic pain, addiction, depression, cancer, amputation, homelessness, and despair! Tony Drees has proven to be invincible. As an amputee, he lives his life from this perspective and invites adventure where few dare go on two legs.

Arising from his life's trials and tribulations, and after dusting off his own ashes, Tony Drees developed his personalized B.E.S.T. System of Success initially to help improve the success rate of post-war and post-military veterans with their pursuit of academics. The system was also used to help children do better in grade school, help women overcome abuse trauma, and help veterans make a smoother transition into civilian life.

Over the last decade, Tony has helped veterans, women, and students triumph over adversity; he has worked within diverse industries helping individuals and organizations transition into sustainable success stories. All the while, he continued to push back the boundaries of other people's expectations for him, earned his Master's degree, and started his own business as an educator and professional keynote speaker.

Feel Invincible! Tony Drees, the Transition Expert, brings this same message to his professional speaking at veterans benefits, corporate events, schools, and on TV and the radio too. He tells us how most people are just one or two steps away from tilting life's circumstances into their favor, and how three simple rules can dramatically improve our chances to overcome almost any challenge or adversity we may be facing in our lives.
You know how it feels when sometimes you need a bit of guidance but don't know who you can trust? Maybe there's too much friction to bother your partner, significant other, sibling, or parent with your troubles. You just need expert guidance, perhaps from a bald leader, an invincible champion of life, to show you a way forward.

Tony doesn't care where you're starting from. If you can be honest with yourself, you're ready to Discover Your Superpower.

#SuperpowerTribe
#veterans #women #students
#schools #corporate #charity
#InvincibleTonyDrees #TransitionExpert
#3Rules #NoLies #NoExcuses #NeverQuit
#DiscoverYourSuperpower #FeelInvincible
#InvincibleChampionsOfLife
#SuperpowerInstitute
Your Instructor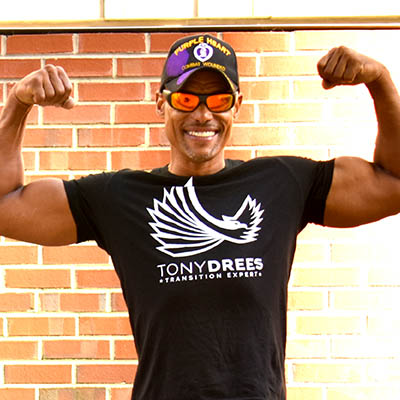 Tony Drees is the Transition Expert, a Warrior, an Invincible Champion of Life, an Army Veteran, a Purple Heart Recipient, an Amputee, an Educator, Keynote Speaker, and a Father.
IN 1991, Tony survived the deadliest Scud missile attack of the Gulf War and lived to tell about it... when 28 others did not. Ultimately, he lost his right leg to shrapnel-induced cancer in February of 2018, and without any way to comfortably wear a prosthetic.
Tony received his Masters of Management from the University of Phoenix, and in 2015 he received Honorable Recognition at the 2015 NAACP Image Awards for diversity and empowerment in education.

Mr. Drees lives in Colorado and speaks professionally at schools, corporate events, veterans benefits, and on TV and radio too. He stands on his only leg when he addresses his audiences to talk about his 3 Rules To Live By: No Lies, No Excuses, and Never Quit.

Part Man, Part Legend, 100% Alive.
Courses Included with Purchase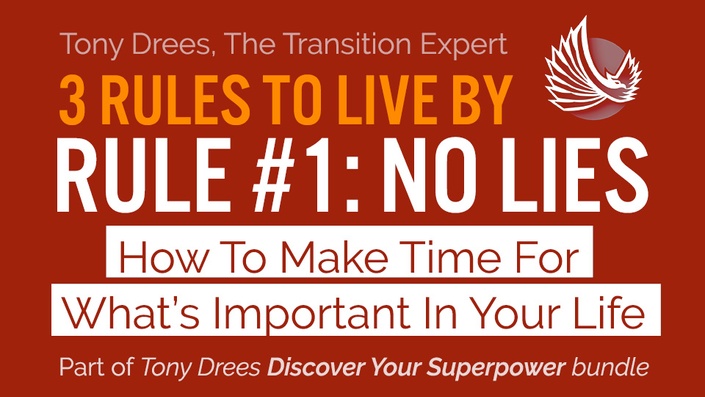 3 Rules To Live By - Rule No. 1: NO LIES
How To Make Time For What's Important In Your Life, with Tony Drees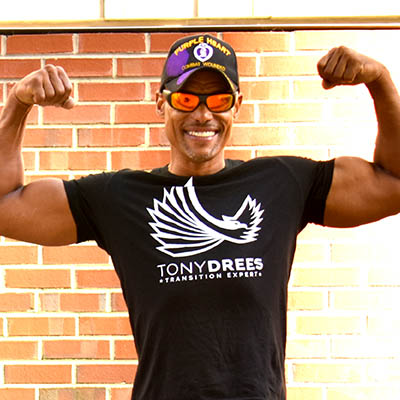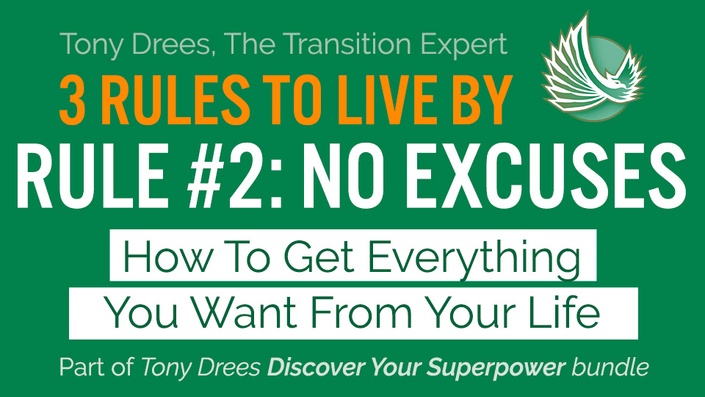 3 Rules To Live By - Rule No. 2: NO EXCUSES
How To Get Everything You Want From Your Life, with Tony Drees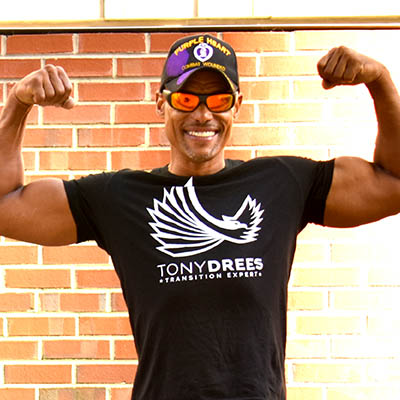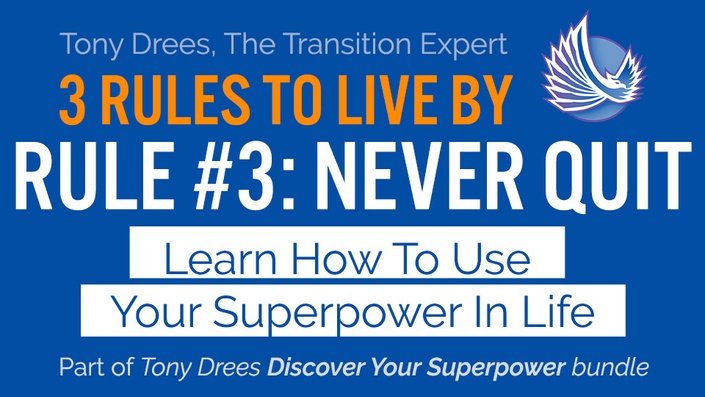 3 Rules To Live By - Rule No. 3: NEVER QUIT
Learn How To Use Your Superpower In Life, with Tony Drees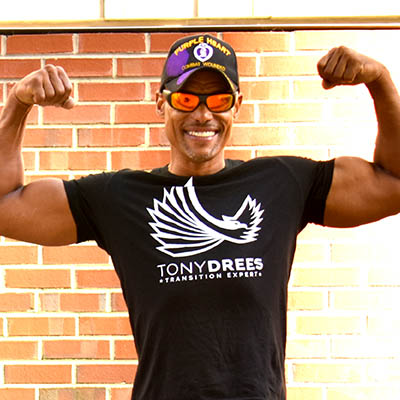 Original Price: $398
Frequently Asked Questions
How long does this 3- course bundle take to complete?
Self-paced, these three courses will take you about 3-4 weeks. The materials of the three courses can each be consumed in about an hour or less, and the work for each course consists of 7-day challenges. Each course should be taken and completed through the challenge sequentially before starting the next course because the material builds on itself.
When does this course bundle start and finish?
The Tony Drees Discover Your Superpower three-course bundle starts now and currently never ends! It is a completely self-paced online curriculum - you decide when you start and when you finish. However, we recommend getting through the material of each of the three courses one at a time. Each course might take you about an hour to get through the reading and lectures, followed by a 7-day challenge for each course. The challenges will take you 10-20 minutes per day to complete with your honesty and integrity intact.
How long do I have access to this course bundle?
How does lifetime access sound? After enrolling, you have unlimited access to each of the three courses included in this 3-course bundle for as long as you like - across any and all devices you own. If you get through the material of a course but can't commit to the 7-day challenge this week - OR, if you get interrupted before completing any of the 7-day challenges, then we recommend you come back and start each challenge once you can accommodate 10-20 minutes per day into your schedule for the full challenge duration for each of the three courses. Wow, that was a long sentence. You can expect the entire bundle will take you about three weeks to a month if you work on your challenges as instructed.
Can I take the 3 courses in any order?
We recommend taking the courses in this order: Rule No.1: NO LIES, Rule No. 2: NO EXCUSES, Rule No. 3: NEVER QUIT, because the second and third courses build on the material and lessons from each previous course. The bundle of courses is designed to take you from where you are now and help you establish time for yourself each day, discover your superpower - what it is you're naturally gifted with, and come to feel invincible in your life or business. #NoLies #NoExcuses #NeverQuit